The Ilyushin IL-114 is a Soviet-made twin-engined turboprop airliner that was designed for short ranged routes. It was introduced in 1998, but was not very popular. As of today, there has only been 20 of such aircraft built and currently there is only one operator of the IL-114. In game, the only variant available is the original IL-114.
Variants
The only variant of the IL-114 available is the base version.
IL-114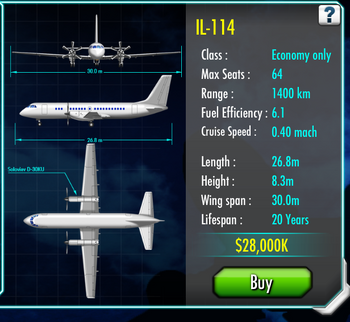 Class: Economy only
Maximum Capacity: 64
Range: 1400 km
Engines: Soloviev D-30KU
Fuel Efficiency: 6.1
Cruise Speed: 0.40 mach
Length: 26.8m
Height: 8.3m
Wing Span: 30.0m
Lifespan: 20 years
Price: $28,000K
Introduction: 1991.12
Production End: 2014.09
Community content is available under
CC-BY-SA
unless otherwise noted.