The Comac C919 is a Chinese-made twin-engined narrow-bodied jet aircraft that was designed by Comac. It has not been test flighted, but the plane for test flight was buit and unveiled to the public on the 2nd of November, 2015. It is projected to be introduced in 2016. Comac, along with partner Bombardier, hope to break the "duopoly" formed by Airbus and Boeing. The C919, along with the CS Family of Bombardier, are planned to compete with the Airbus A320 and Boeing 737. In game, there is only one variant of the C919. However, its capabilities never even came close to either one of them.
Variants
There is only one variant of the C919.
C919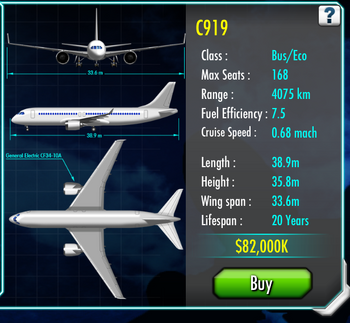 Class: Business/Economy
Maximum Capacity: 168
Range: 4075 km
Engines: General Electric CF34-10A (In real world : CFM Leap 1C)
Fuel Efficiency: 7.5
Cruise Speed: 0.68 mach
Length: 38.9m
Height: 35.8m (should be 15.8 m?)
Wing Span: 33.6m
Lifespan: 20 years
Price: $82,000K
Wikipedia : LINK
Community content is available under
CC-BY-SA
unless otherwise noted.