The Antonov An-70 is a medium-range four-engine cargo aircraft developed by by Ukraine's Antonov design bureau. As of October 2014, 2 prototypes have been built. Unfortunately, one of the prototypes have been involved in a mid-air collisions on its fourth flight on 10 February 1995. The plane is powered by propfans, giving it a USP. This is also the reason the aircraft is available throughout the channel once it has began.
Variants
In the game, as expected, there is only one variant of the An-70 available.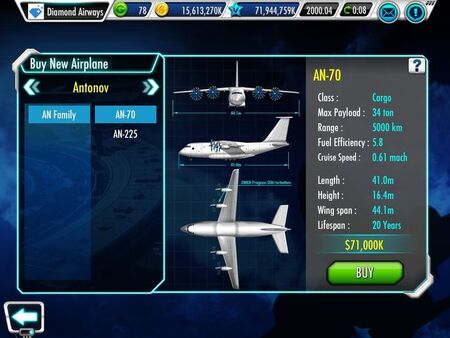 Class: Cargo
Maximum Payload: 34 tons
Range: 5000 km
Fuel Efficiency: 5.8
Cruise Speed: 0.61 Mach
Length: 41.0 m
Height: 16.4 m
Wing Span: 44.1 m
Lifespan: 20 years
Price: 71,000 k
Power-plants (engines): 4 ZMKB Progress D36 turbofans
Community content is available under
CC-BY-SA
unless otherwise noted.