The A380 is a European-made wide-bodied jet airliner made by Airbus. Introduced in October 2007, it is the biggest passenger aircraft in the world, carrying a maximum of 853 passengers. It has over 40% more space than the world's second largest airliner, the Boeing 747-8, with a complete upper deck instead of a partial one. Despite it's enormous size, the A380 only consume 3.3L of aviation fuel to fly one passenger over 100km.
Trivia
Airbus A380 is marked as largest passenger airplane in the world. As of October 2015, Airbus had received 317 firm orders and delivered 173 aircraft; Emirates is the biggest A380 customer with 140 on order and 67 delivered.
People's Review
The lack of engine noise—it's 50% quieter than a 747-400 on takeoff—was downright eerie. The A380 is so big it's difficult to sense its speed, and its upper deck is so far away from the engines the noise dissipates. — Times magazine
In real life, With more air travel moving to thinly traveled point-to-point routes rather than through major hubs, it was unlikely one could ever sell enough planes to recover the development cost. The sum total lower cost of operation will never pay back the cost of developing and producing these planes, nor earn enough extra to pay the shareholders for putting up the money, as it bleeds taxpayers in the countries that subsidize it. This isn't a shocker either, as Boeing elected in advance not to compete with a new airplane in this class because they didn't think there was room for even one such model in the market, let alone two. It is considered by some as a complete disaster: the success of the A380 superjumbo is still under question. The double-decker plane has drained resources and is not yet profitable. The vast majority of the A380s have been ordered by one airline, Emirates, whose business model as a long-haul "superconnector" it suits.
Variants
There are two variants in game.
*= indicates latest changes with April 2016 update for ATO2 and AT4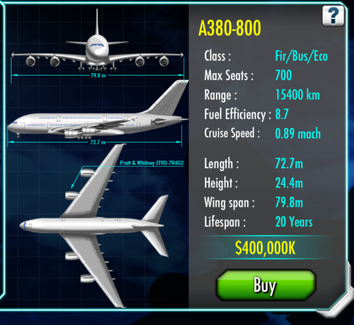 A380-800
Class: First Class/Business/Economy
Maximum Capacity: 800*
Range: 15,400km
Engines: Pratt & Whitney JT9D-7R4G2
Fuel Efficiency: 8.7
Cruise Speed: 0.89 Mach
Maximum Hours: 95,000
Length: 72.7m
Height: 24.4m
Wing Span: 79.8m
Lifespan: 20 years
Price: $440,000K*
Time: 2007.02
Wikipedia : LINK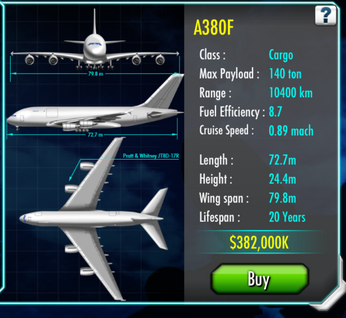 A380F
Class: Cargo
Maximum Payload: 154 tons*
Range: 10,400 km
Engines: Pratt & Whitney JT8D-17R
Fuel Efficiency: 8.7
Cruise Speed: 0.89 Mach
Length: 72.7m
Height: 24.4m
Wing Span: 79.8m
Lifespan: 20 years
Price: $412,000K*
Time: 2008.12
In Real Life this Airplane doesn't exist yet. Airbus planned to build it and even took orders from companies, but after the delays in the A388 passenger delivery they decided to put the freighter version on hold until further notice and put all assets into the passenger version to minimize the delay. They still plan to build it one day after the passenger version is back in timeline and they don´t need all capacity for the passenger version anymore.
Wikipedia : LINK
Community content is available under
CC-BY-SA
unless otherwise noted.