Electrical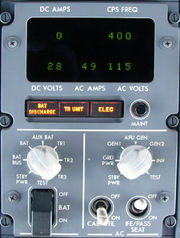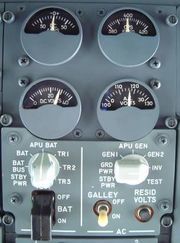 Notice the new CAB/UTIL & IFE/PASS SEAT switches that replace the GALLEY switch. These control the following services:
CAB/UTIL IFE/PASS SEAT
Recirculation fan(s) 115V AC audio IFE
Door area heaters 115V AC video IFE
Drain mast heaters 28V DC video IFE
Lavatory water heaters Airphone equipment
All galley buses Pax seat elec outlets
Shaver outlets
Logo lights
Potable water comp
DC voltages are measured at the following points:
DC Selector switch Voltage measurement point Typical Voltage Typical Current STBY PWR DC Standby bus 24-30 N/A BAT BUS Battery bus 24-30 N/A BATT Hot battery bus 22-30* 0 TR1 DC bus 1 24-30 20-25 TR2 DC bus 2 24-30 20-25 TR3 TR 3 24-30 10-15 TEST Power system test module See table See table - May be up to 33V during pulse mode charging.
Do not leave the DC meter selector at BAT on a dead aircraft, because indicating draws some current and will eventually drain the battery.
Community content is available under
CC-BY-SA
unless otherwise noted.